Accept the LP Connect Card and Become a LPC Certified Deaf Friendly™ Institution.
LP Connect (LPC), powered by Language People is a fast-growing, nation-wide network of thousands of LP Connect Card Members who are Deaf and/or hard of hearing and use the LP Connect Mobile App to gain access to American Sign Language Interpreters through LP Connect Video Remote Interpreting. Connecting with the Deaf Community, which is the 3rd largest cultural linguistic group in the U.S., makes good business sense.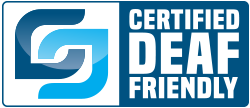 When your institution agrees to accept LP Connect Members and provide interpretation services to them, you will take an important step in efficiently and cost-effectively staying in compliance with ADA regulations. In addition, you will gain all the following benefits for your institution including access to:
Professional sign language interpreter's on-demand.
Language People's suite of patented products and technologies. All these proprietary products are designed to elevate your presence and visibility in the Deaf Community, providing them the vital services that they deserve.
Exclusive marketing opportunities with DeafNation, the world's largest and most dynamic social network for the Deaf.
Opportunities include featured presence on their website and DeafNation Expo events nationwide.
The Certified Deaf Friendly™ Logo in digital form to place on your website and social media pages.
A Certified Deaf Friendly™ placard and/or window stickers
A listing in our online Deaf Friendly™ Directory
Take advantage of our easy to implement ADA compliance solutions for your Deaf and Hard of Hearing customers and associates by accepting the LP Connect Card and becoming a LPC Certified Deaf Friendly institution.
LP Connect – Efficient, Cost Effective ADA Compliance Solution
Get started today.
Call 800-894-2345
Certified Deaf Friendly is a trademark of Language People, Inc.