As the CEO of Language People and the creator of the LP Connect (blue card) program, I am excited that on October 7th 2015 the Pizza Bar in Newport Beach became the first restaurant to have Sign Language over Video Kiosks (the LPRevolution) installed in their restaurant. When a Deaf customer comes into the restaurant they can sign with the staff and communicate what they want to eat, how they are liking their meal, and any questions they may have.
It might seem simple to someone else, but just the fact that a Deaf woman could ask for 3 slices of lemon in her ice water with her meal was a huge leap forward for equality for the Deaf in America. As a hearing person, anytime I go into a restaurant in America I can ask for water with ice, ice water with lemon, or extra cheese on my pizza. With PizzaBar, we have shown that there is no excuse not to provide the same equal communication access for a Deaf person entering a restaurant or any retail establishment.
Over 11,000 people in America have the LP Connect blue card with the mobile app so wherever they go they can get immediate access to a LP Connect interpreter to communicate in Sign Language with the business, government, police, fire or healthcare provider. Membership has its rewards!  By being an LP Connect member and asking for your rights you are helping make hearing businesses and government aware that Deaf individuals have the right to communicate in Sign Language. In this way, LP Connect members educate hearing people about Deaf rights and also get to communicate in Sign Language.
Who certifies a business as Certified Deaf Friendly™? What does certification mean?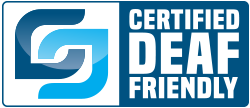 Here is what a business has to do to qualify to have the LP Connect symbol and become a Certified Deaf Friendly business:
The business offers Sign Language Communication to conduct the customers' business. They can do this by having staff that signs, by having our LP Revolution Sign Language Kiosk, or accepting the LP Connect mobile VRI application to communicate with customers. The point is, being LP Connect Certified Deaf Friendly means that the business is committed to providing communication to customers in Sign Language.
The business commits to treating all Deaf customers with the same respect and goodwill that they treat their hearing customers. No more pointing at menus. No more being ignored because the waiter can't communicate with you. No more having to bring a hearing person with you to help you. By signing, having the LP Connect App or using the Kiosk with a signing interpreter the staff can ask "Is your food great?," "Can I get you anything else?," or "Would you like dessert?"
The business promises that if they have any complaints or issues with service that they will communicate with them in Sign Language to resolve the issues.
LP Connect Certified Deaf Friendly is for all kinds of businesses; car dealerships, restaurants, hotels, auto repair, insurance companies, healthcare organizations, etc. October 7th was the beginning of a revolution, starting with the first restaurant using the kiosks.  All over America businesses are signing up and accepting the LP Connect mobile app.
We are excited that through Language People, Inc., DeafNation and LP Connect are working together to begin this change. Please join us in encouraging businesses, cities, hospitals and other agencies to become LP Connect Certified Deaf Friendly™. This is the first step toward lasting change, and part of our vision for Opportunity and Justice for All.
Sincerely,
Lisa Wrench
CEO
Language People, Inc.